Our 2022 Corn Maze is a message of HOPE and includes the suicide prevention hotline.
Our maze will be open daily from Sept 3-Oct 31!
September Hours: 9AM to 4:30PM;
Oct Hours: Sun-Thur 9AM to 6pm/ Fri/Sat 9AM to 10pm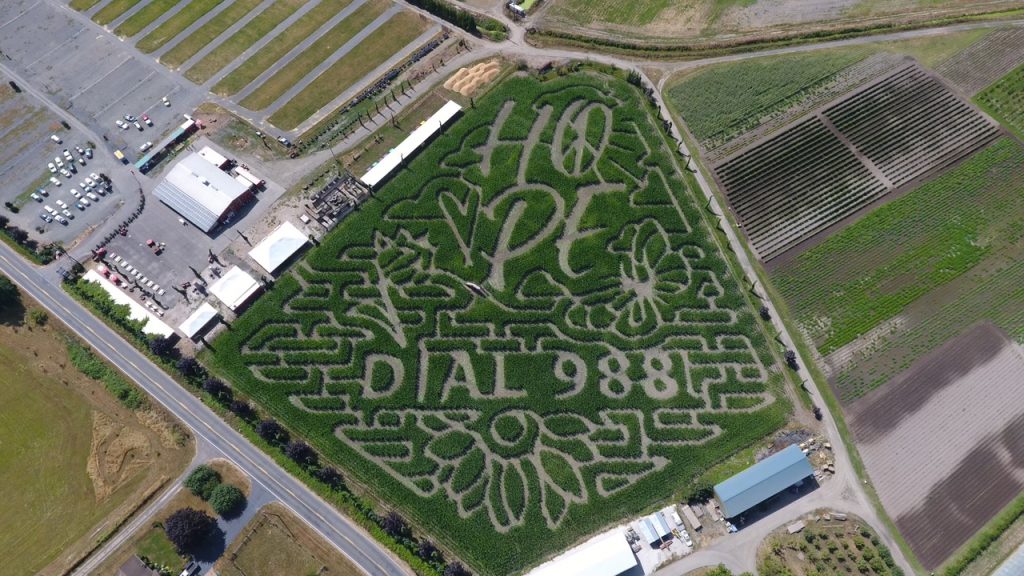 Open daily until October 31, 2022! (Check days/hours listed below)
PLAN AHEAD: We expect the higher traffic days on Sauvie Island to be Saturdays & Sundays in October, especially the 2 middle weekends! Plan on giving yourself time for this!
All Activities, Tickets, and outside booths are cash only! Credit Card only accepted in the farm store for produce*
Click Here for Hours of Operation
---
Corn Maze Info
This fall, get lost in our 7-acre corn maze on Sauvie Island. We are known for our annual inspiring and intricate corn mazes, that include relevant designs intended to spark conversation or raise awareness for current issues in the midst of an ever constant and saturated news cycle. The 2022 theme is "HOPE" complete with the word woven seamlessly between acres of corn, and coupled with The Lifeline (Dial 988)- the National Suicide Prevention Hotline. Through years of a global pandemic, recent war, economic instability, and rises in suicide rates, our corn maze this year touches on a topic that has affected everyone's lives regardless of age, race, gender, or socioeconomic status.
Enjoy a hot cup of apple cider over a game of trivia about the maze, and compete with your friends/family inside the maze to win a game inspired by Clue. Spark conversation about mental health this fall, and how we can lean on each other during difficult times inside and outside of our communities.
A portion of the proceeds will go to support a local non-profit benefiting mental health awareness.
2.7 miles
There are approximately 2.7 miles of start-to-finish pathways in our 7 acre Sauvie Island corn maze, and it takes intrepid visitors an average of one hour to figure their way out.
Dogs are allowed
Dogs ARE allowed in regular corn maze only (NOT Haunted Maze) on a leash.
Open September 3 – October 31
Our Sauvie Island Pumpkin patch for u-pick pumpkins will be opened September 24 through October 31 (with free hayrides out to the patch starting October 1).
Pumpkin Patch Hours: Sept 24-29 9AM to 5PM; October Hours: Daily 9AM to 6PM
Sauvie Island Haunted Corn Maze Opening night is Saturday, October 1st, 2022. Haunted Maze is every Friday/Saturday night in October!
Go to our Haunted Corn Maze page to get more info.
---
Regular Corn Maze Prices:
TICKET
PRICE
Adult 13+ years
$8M-Th
$10 F-Sun
Child 6-12 years
$6 M-Th
$8 F-Sun
5 years and under
Free
Seniors 65+ years & Military
$6 M-Th
$8 F-Sun
Combo Pass (Purchase Both: Haunted & Regular Maze)
*When purchasing these online use coupon code: Combopass2022 to get combo price*
$30 Fri
$40 Sat
Haunted Maze All Ages
(Children 5 and under not permitted into the haunted maze and not recommended for small kids)
$25 Fri
$35 Sat
Haunted Maze Fast Pass – (Get in immediately don't wait)
You can only purchase these at the farm
$45.00
---
Pumpkin Patch & Activities:
Unlimited Activity Bracelets are ONLY AVAILABLE 9am to 6pm on Fri-Sun in October
Activity
Price
Hayrides out to Sauvie Island Pumpkin Patch
Available Daily October 1st- 31st, Last call 5pm
Free
Cow Train
Available Fri/Sat/Sun
$3.00
Grain Train
Available Sat/Sun October 3rd – October 31st
$2.00
Hay Maze
Daily – All Season
$2.00
Duck Races
Daily – All Season – Keep your plastic toy duck!
$2.00
Unlimited Activity Bracelet:
Available Fri-Sun October
Enjoy unlimited access the whole day to Grain Train, Cow Train, Hay Maze, Duck Races, Hay Rides, and the regular maze with these bracelets!
| Bracelet | Price |
| --- | --- |
| Unlimited Bracelet without Corn Maze | $20 |
| Unlimited Bracelet + Unlimited Corn Maze | $25 |
Farm Animals
To enter Petting Zoo is not included in unlimited bracelets. Petting zoo admission is $5
Farm Animals are here DAILY and can be visited through the fence, the petting zoo is only open Sat/Sun in October
The petting zoo is not included in the unlimited bracelet
Other Things Available in October:
(Friday – Sunday Available October 1 – October 31)
Bella's Courtyard with freshly prepared yummy food!
Face Painting (Sat/Sun only)
Our Wine, Hard Cider, and Hopworks Beer Available on Tap!
Organic Food Market
Kettle Corn
Fully stocked farm store!
Photo Opportunities
A huge pumpkin patch full of an assortment of pumpkins!
and much much more!!!
Tips for your visit:
All activities, Tickets and food/beer booths, outdoor vendors are cash only!
Wear shoes that you don't mind getting dirty and that have good traction! The fields and corn mazes can get muddy, especially after we have had some rain! (Bring a pair of shoes to wear home.)
Bring a flashlight with you when going to the regular corn maze at night! (However, no flashlights are allowed in the scary haunted corn maze).
---
Group Rate Coupon Codes:
For Groups Rates from 15 or more, you will receive $2 off per person if you purchase your tickets in one transaction for either haunted maze or regular maze. Or you can use a coupon code online to get $2 off per person:
Haunted Maze Coupon 2022: Grouphaunt2022
Regular Corn Maze (2022): GroupRegular2022
Combo pass (ticket to both mazes): Combopass2022
Please contact Sofia@bellaorganic.com for special group events, field trips, birthday parties, etc!
We are located out on Sauvie Island in Portland! We have the Corn maze on Sauvie Island and we also have the Haunted Maze on Sauvie Island and the Pumpkin Patch on Sauvie Island!
---
Our Past Maze Designs & Fall Farm Photos