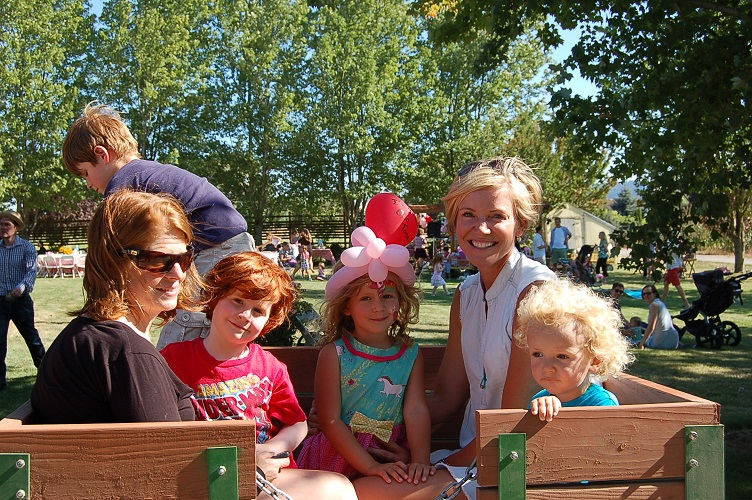 HAVE YOUR PARTY AT THE FARM!
Event Garden Reservations for May through October
Instructions and info! PLEASE READ PRIOR TO BOOKING!
The farm is a great place to host a birthday party, picnic, family gathering, friend party, corporate event, and more! Our event garden is close to the farm store and all the activities, but still has enough privacy for your guests! Have a space in our garden reserved for you so you can focus on your guests! The event area is private for events only, and has an arbor, grassy field, and plenty of seating for your guests to relax.
What to Do: Pick a Date that is available! (Note that some days may not be available due to other events going on that day).
May – October Event Booking: $300 is the basic event booking rate this includes a space for seating up to 30 people. OPTIONS INCLUDE: (May Parties includes 10 petting zoo admissions in May, ONLY. June-September parties includes 10 u-pick pints for picking berries. October Parties includes 10 small pumpkin vouchers in October.)
Please see add-on options below:
Additional Items You Can Add-on to make your party fit your needs (for additional charge):
1. U-Pick Item: Get a pint to fill of whatever is available for U-Pick at the time of your event for $5 per person – (Note October NIGHTS u-pick is closed but you can add on a $5 pumpkin voucher for those evenings for your guests to redeem in the farm store).
2. Tokens (to be spent like money on the farm for food/drink/products/tickets for your guests). Each token is $1 per $1 cash.
3. Corn Maze Tickets (Sept/Oct Only), unlimited activity bracelets (Only available Sept 24-Oct 31 from 9am to 6pm), and pumpkins (available Sept 24-Oct 31).
4. Platters are not available in October! Add-on a Platter: Fruit platter $50, Veggie Platter $50, Meat/Cheese Charcuterie Board $28, Veggie Charcuterie Board $28 or (Make it a Vegan charcuterie board for $33).
ADD-ON Petting Zoo Admission for $5 per person in May or October ONLY. (Petting zoo only available those months).
When you arrive on the farm, please come to the farm store (May-August) or the ticket booth (Sept/Oct) to get your packet of add-ons and to be shown to your reserved area! If the slot you would like is unavailable, that means it's either already-booked or no more space is available that day!
Next: See What Rental Includes and WHAT IS ALLOWED on the farm.
Includes: Space for up to 30 people in our new private Event Garden. This includes 4 picnic tables and almost all tables have protection from the elements under our beautiful arbor. The event rental also includes 10 u-pick pints for your guests to pick fruit into or small pumpkin vouchers in October.
Pick your Time-slot: Time Slots Available (Choose from a 3-hour time slot):
May Time Slot Option is: 12pm-3pm only.
June through September Time Slot Options: 9am to 12pm or 12pm to 3pm or 3pm to 6pm.
October OPTIONS ARE: 9am to 12pm or 12pm to 3pm or 3pm to 6pm or (6pm to 9pm – this late slot only available on Fri/Sat nights in October)
Time slots are strictly enforced and must be scheduled in advance. It is $150 ADDITONAL if you go over your allotted time unless we specify there are no other parties after yours. This time includes set-up and clean-up
Please NOTE: We cannot book until we receive payment for your event.
RULES: ** NO OUTSIDE FOOD or DRINKS ALLOWED. You can bring decorations, cake, ice cream, and balloons (clean up decorations on the way out and please recycle – we only include one garbage can full of garbage with your party – any extra garage or recycle must go home with you). Food/drink/alcoholic beverages (beer & wine) and activities also available for purchase at the farm. Tokens must be purchased in advance if you would like to purchase a large quantity as we have to prepare them for your group. You can discuss with us the options to purchase additional tickets at the farm on the day of your event. Please see the Bella's Courtyard page for current menus for more info on food options!**
FARM OUTDOOR ACTIVITIES ARE CASH ONLY IN OCTOBER.
WHEN YOU ARRIVE AT THE FARM: Please check-in at the ticket booth or farm store when you arrive, and we will give you instructions for your event space and how to redeem any tickets or tokens purchased!
---