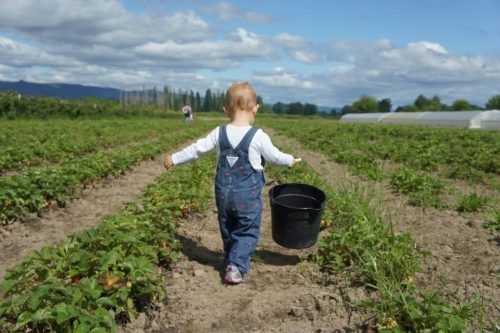 U-Pick CROP UPDATE:  October 1st-31st, 2019
Organic U-Pick pumpkins are now open! Hayride to our large pumpkin patch is open daily until 5pm. 
Already-Picked:
Click here for already-picked info. 

You can also call 503-621-9545 for crop updates!
Farm Hours : 
Open June 1 – October 31
OCTOBER HOURS: OPEN DAILY
Sun- Thurs: OPEN 9am to 6pm (last call into pumpkin patch/maze at 5pm- MUST BE OUT BY 6PM)
Fri/Sat: OPEN 9am to 10pm (HAUNTED CORN MAZE at night – last call at 10pm into maze; last call into pumpkin patch is 6pm)
October 31 Hours: 9am to 3pm
Food Booth – Open Wed-Sun (Hours & Food Options Vary by day)
** Seasonal U-Pick Pricing on bottom of page**
**Please keep in mind, we are a very popular u-pick destination so we have A LOT of u-pickers daily. For BERRY SEASON ONLY – If the update for good picking was made in the morning and you are planning to come after 3pm on weekends it's a good idea to call for an update before you head out! 503-621-9545 is our number

Other Info:
Payment Accepted:
In farm store: Cash, Credit, Debit, Farm direct checks!
ALL OUTDOOR ACTIVITIES AND FOOD/BEER BOOTHS ARE CASH ONLY!
Pets:
Dogs are allowed on the farm but not in U-Pick Fields/Fields with growing crops or in Farm Store!
Social Media:
Check out the website, Facebook, Instagram, and sign up to our Newsletter for updates on next season! We also have our online store open all year long with great Bella products available (and more being added all the time)! Shop Online at www.bellaorganic.com/shop
What to wear: 
We suggest wearing tennis shoes or boots out to the farm as we do have mud, dirt, and weeds (since we are an organic farm and do not spray)

Comfortable clothes for picking! Something you don't mind getting dirty!
Containers for picking and Transporting Home:
We provide buckets to pick into and bags to bring your berries home in.

You can purchase berry boxes from us at $1.50  each (our cost)

You can bring your own containers for picking and to bring your berries home (Please remember to weigh your containers from home BEFORE you pick into them.)
Average Months Crops are to be Available for U-Pick:

*not guaranteed
Possibly End of May
June
Strawberries
Cherries  (Sour Pie Cherries will be only variety available for u-pick this year)
Blueberries (May start end of Month)
Early Variety Blackberries (May start end of June)
July
Blueberries
Thornless Blackberries
 Marionberries
Early Variety Blackberries
Strawberries (May still be available at this time)
August
September
Corn

Pumpkins (end of the month)
October
November 
Prices for our Oregon Tilth Certified Organic U-Pick: 
Strawberries – $3.50/lb
Blueberries –  $4.00/lb
Blackberries – $4.00/lb
Marionberries – $4.00/lb
Corn – $1 an ear 
Raspberries – N/A
Sour Pie Cherries – $5.50/lb
Pears – $2.50/lb
Heirloom Tomatoes – $3.50/lb
Pumpkin Pricing is a range by weight! Will post these very soon! Or call 503-621-9545 for info!