U-Pick CROP UPDATE:
U-Pick crop updates are posted daily on our calendar. Check the date you plan to visit for information about what's happening at the farm that day and what's available for u-pick!
U-PICK: August 27th, 2023 Crop Update: Today we have U-Cut Sunflowers, U-Pick Pears and U-Pick Corn available. The store is open daily 9am to 5pm. Follow our Instagram or Facebook for the quickest announcements!
*Note: Once U-Pick opens- please check out the calendar for daily crop updates and availability!
What's Already Picked?
*Please keep in mind, we are a very popular u-pick destination so we have A LOT of u-pickers daily. For BERRY SEASON ONLY – There are many days that we have so many berry pickers come visit us that we sell out of berries for that day and must allow the fields time for more berries to ripen. Please call ahead before heading out if you want to verify if a certain crop is in abundance that day!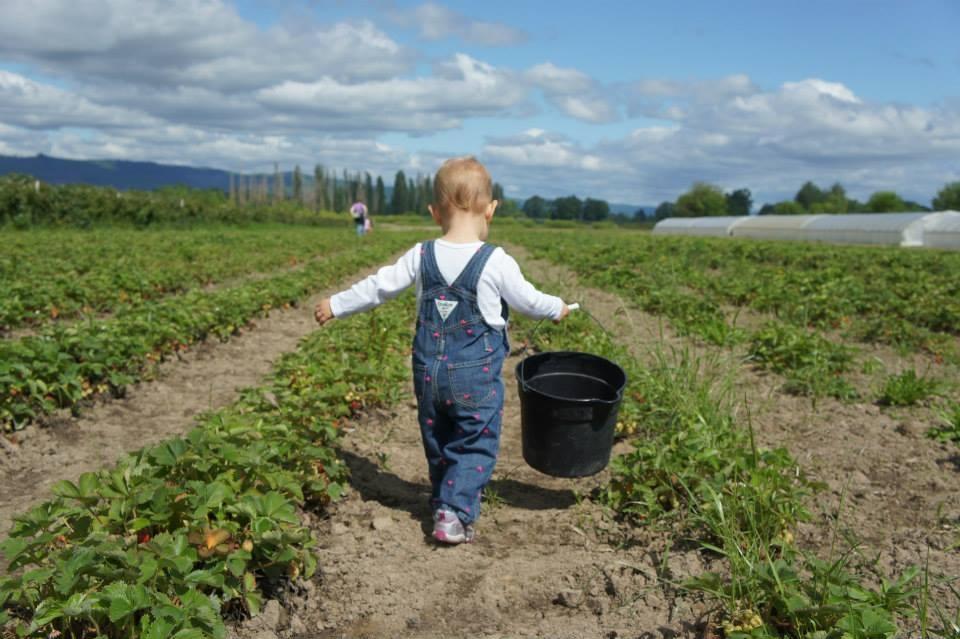 Seasonal U-Pick Pricing
Oregon Tilth Certified Organic U-Pick– EVERYONE WHO ENTERS OUR U-PICK FIELDS MUST PRE-PAY $5.00 BEFORE ENTERING FIELDS (this fee will be applied as a credit towards your berries you purchase.) NO ENTRY without U-Pick bracelet. We also do not allow crop eating while in our fields. Thank you for your understanding.
THESE DATES ARE APPROXIMATE! PLEASE CHECK CALENDAR FOR U-PICK HOURS, DATES, AVAILABILITY!
Crop
Price/lb
Season
Organic Strawberries
$5.00
June
Organic Blueberries
$5.00
July
Thornless Organic Blackberries
$5.00
July/Aug
Organic Marionberries
$6.00
July/Aug
Organic Corn
$2/ear
September
Organic Sour Pie Cherries
$6.00
July
Organic Pears
$3.00
Aug/Sept
Organic Heirloom Tomatoes
$4.00
August
Organic Pumpkins
Pricing is a range based on weight! Will post these very soon! Or call 503-621-9545 for the info!
NA
October
---
Other Info
What to wear:
We suggest wearing tennis shoes or boots out to the farm as we do have mud, dirt, and weeds (since we are an organic farm and do not spray).
Comfortable clothes for picking! Bring a hat! Something you don't mind getting dirty! Sunscreen on a hot day! And a bottle of water!
---
Containers for picking and Transporting Home:
You can purchase buckets or boxes to pick into and bags to bring your berries home in (for purchase only).
You can purchase berry boxes from us at $2.00-$2.50 each (our cost)
You can bring your own containers for picking and to bring your berries home (Please remember to weigh your containers from home BEFORE you pick into them.)
Must pre-pay $5 per person to enter the U-Pick fields (this amount is credited back to your purchased berries).
---
Average Months Crops are to be Available for U-Pick:
*Not Guaranteed so check calendar!*
Generally start in early June- Check website calendar for exact dates and times!
June
Strawberries
Cherries (Sour Pie Cherries will be the only variety available for u-pick this year)
Blueberries (Possibly start end of Month)
Early Variety Blackberries (Possibly start end of June)
July
Blueberries
Thornless Blackberries
Marionberries
Early Variety Blackberries
Strawberries (Possibly still be available at this time)
August
September
Corn
Pumpkins (end of the month)
October & November
---
Farm Info:
Payment Accepted:
In farm store ONLY: Cash, Credit, Debit, Farm-direct checks! 🙂
ALL OUTDOOR ACTIVITIES AND FOOD/BEER BOOTHS ARE CASH ONLY!
Pets:
Dogs are allowed on the farm but not in U-Pick Fields/Fields with growing crops or in Farm Store!
Social Media:
Check out the website, Facebook, Instagram, and sign up for our Newsletter for updates on next season!
We also have our online store open all year long with great Bella products available (and more being added all the time)!