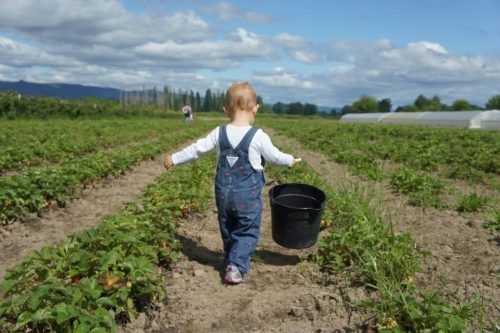 U-Pick CROP UPDATE:  U-Pick Pumpkins are now open with many varieties! 
 You can also call 503-621-9545 for crop updates!
Please plan accordingly when dressing for the corn maze and farm! We ask that all guests please wear shoes with good traction, preferably boots, it's EXTREMELY MUDDY!!!!!
U-Pick Hours :
Open Daily 9am to 5pm 
October Hours 9am-5pm
Please note that we occasionally close the fields some days to allow them to ripen!

October 31st we will close at 4pm with last call for our Corn Maze and Pumpkin Patch at 3pm.
FARM HOURS:
Farm Store will be open May 12th through November 3rd 2017
June through September Hours: Open Daily 9am to 6pm

October 30th we will close at 5pm and October 31st we will close at 4pm with last call for our Corn Maze and Pumpkin Patch at 3pm. 

November 1st though the 3rd we will be open from 10am t0 5pm
** Seasonal U-Pick Pricing on bottom of page**
**Please keep in mind, we are a very popular u-pick destination so we have A LOT of u-pickers daily. For BERRY SEASON ONLY – If the update for good picking was made in the morning and you are planning to come after 3pm it's a good idea to call for an update before you head out! 503-621-9545 is our number

Other Info:
Check the voicemail (503) 621-9545 for Crop Updates or Check this page to find out how the crops are doing and when the best picking will be

You can use cash, credit, debit, or farm direct checks when shopping inside the store.

ALL OUTDOOR ACTIVITIES AND FOOD/BEER BOOTHS ARE CASH ONLY!)


Like Us on Facebook & Join our Newsletter for the Best Bella Deals

Food Pavilion is open every Sat/Sun – Hours Vary
Food Booth and outdoor activities are cash only!
Dogs are allowed on the farm but not in U-Pick Fields/Fields with growing crops or in Farm Store!
Containers for picking and Transporting Home:
We provide buckets to pick into and bags to bring your berries home in.
You can purchase berry boxes from us at $1 each (our cost)
You can bring your own containers for picking and to bring your berries home (Please remember to weigh your containers from home BEFORE you pick into them.)
Typical Months Crops are Expected to be Available for U-Pick :
Possibly End of May
June
Strawberries
Cherries  (Sour Pie Cherries will be only variety available for u-pick this year)
Blueberries (May start end of Month)
Early Variety Blackberries (May start end of June)
July
Blueberries
Thornless Blackberries
 Marionberries
Early Variety Blackberries
Strawberries (May still be available at this time)
August
September
Corn
Pumpkins (end of the month)
October
November 
Prices for our Oregon Tilth Certified Organic U-Pick: 2017 pricing 
Strawberries – $3.50/lb
Blueberries –  $4.00/lb
Blackberries – $4.00/lb
Marionberries – $4.00/lb
Raspberries –
Sour Pie Cherries – $4.50/lb
Heirloom Tomatoes –
Pumpkin Pricing is a range by weight! Will post these very soon! Or call 503-621-9545 for info!